KANDI
is a new generation professionally managed engineering organization with dedicated team having in depth knowledge of designing, manufacturing and execution of Low Voltage & Medium Voltage Switchboards & Bus ducts..
Established by Engineering professionals with experience of more than 25 years in the field of LV / MV Switchboards & bus ducts manufacturing and has earned itself a distinguished reputation within industry for its innovative product design, unmatched quality, prompt Delivery & After Sales Service. KANDI Electrical Solutions Pvt. Ltd. has state of the art manufacturing facility in Gurgaon / Delhi.
PRODUCT RANGE
• LV Switchboards up to 1000V,6300A Rating (Fixed & Draw out)
• MV Switchboards up to 33KV*
• Bus Ducts
» Non segregated Phase Bus duct up to 1100V, 6300A Rating
» Segregated Bus duct up to 33KV, 6300A rating
» Rising Main & Bus Trunking**
• Control & Relay Panels
• DG AMF & Synchronising Panels
• APFCR Panels
• Lighting Distribution Boards
• Junction Boxes & Bay Marshaling Kiosks
• DC Distribution Boards
• AC Drive & Soft Starter Panels
LV Switchboards
Kandi make LV switchboards with modular principal in electrical & mechanical design is manufactured to match international standards of quality. It makes your application safe, uses space economically and diminishes hazards. KANDI LV Switchboards saves your time and energy, enhancing cost optimization and have the best solutions for all type of Industries, Power Sector (Thermal, Gas, Hydel, Nuclear, Solar), Residential & Commercial Complexes, Infrastructure Projects (Metro, Rail, Airports, IT Park, SEZ etc.) and many more applications.
TECHNICAL DATA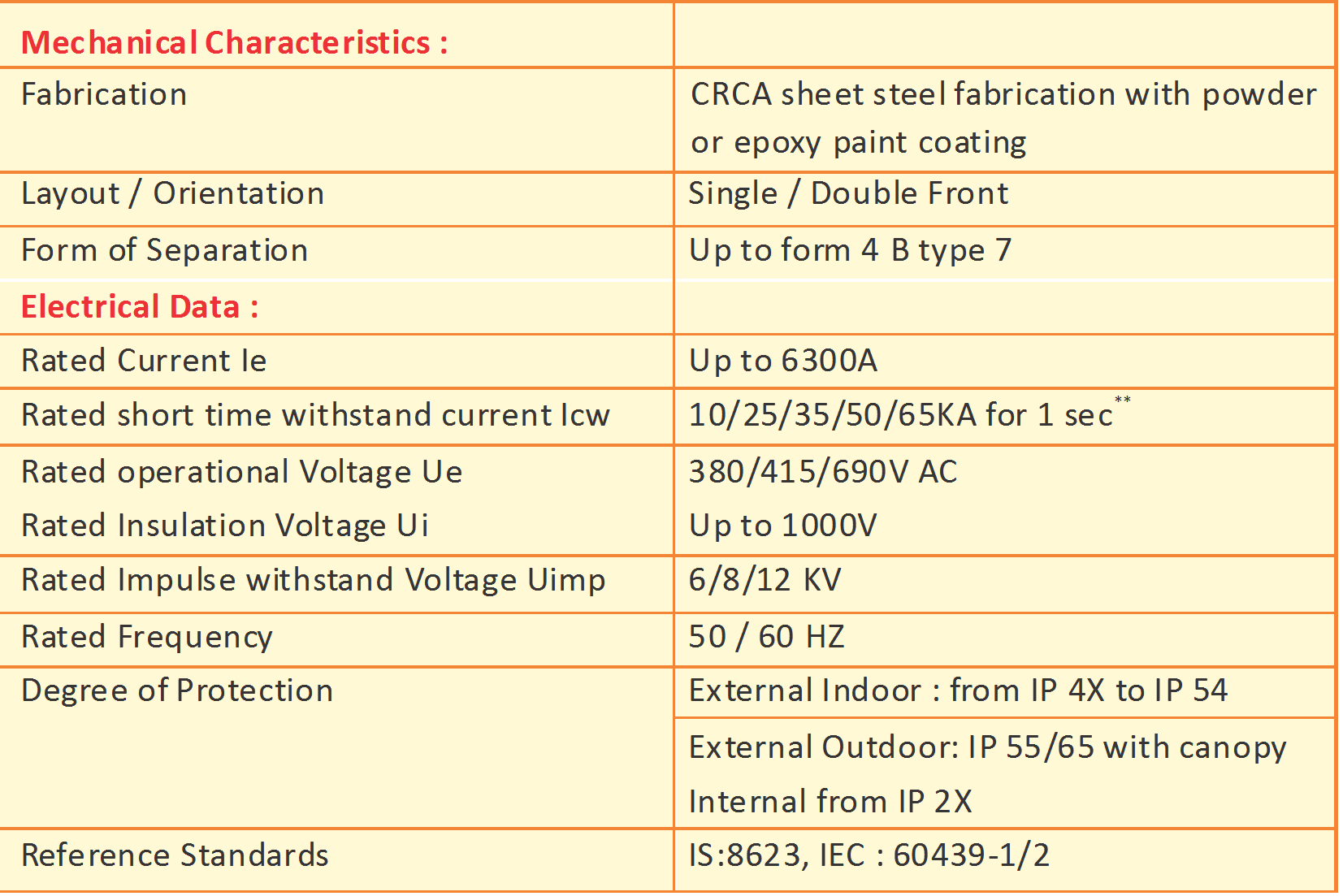 FEATURES
• LV switchboards are available with Welded or manufactured with 100% bolted modular construction.
• Interleaved Bus bar system above 1600A rating, which offer lower impedance results in uniform temperature rise in all three phases. Enhances bus bar current carrying capacity, Reduce Power Loss, Remove skin effect and proximity effect.
• Moulded Bus bar supports from fiberglass reinforced thermosetting plastic, SMC / DMC. v DP/TP / TPN Bus bar of Electrolytic grade of Aluminum / copper with heat shrink sleeves. v Neutral Bus bar 50% or 100% or 200% as per customer requirement.
• Double-deck bus bar arrangement is also available for higher ratings.